NT Bureau
Chennai, July 30, 2005: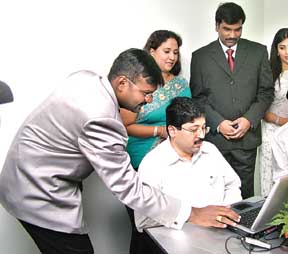 Dayanidhi Maran, Union Minister of Communications and Information Technology, launching the website of STC ThirdEye Technology, an independent software testing company, in Chennai today.

Photo: K Vijay Anand

Dayanidhi Maran, Union Minister of Communication and Information Technology inaugurated a new Independent Software Testing company named STC ThirdEye Technology (India) Pvt. Ltd., here, in Chennai. He also launched the company's corporate web site www.stcthirdeye.com on the occasion.
In this occasion A P Thirumalraj (Head-Testing Services) ThirdEye, said that the company, which already specializes in software testing training and staffing solutions, now enters the third party testing market. It would start operations from its facility in Chennai with 150 professionals and it would provide all testing services under a single roof.
He said the company was planning to hire more than 200 test engineers before this year-end. It would soon launch a similar facility in Bangalore and Mumbai and operate in the verticals like BFSI, health care, telecom and embedded system and software gaming.

He said that since the software testing market was growing at an enormous rate the company had planned to provide dedicated Offshore Test Centers to the product development companies. It was also implementing the Information Security Management System, which would further make OTC (Offshore Test Center) secure. This would help product development companies spend more time on product enhancements and release their products on time. He said the service makes STC ThirdEye as an outsourced product testing company.

He said the company also outsourcers test engineers to the major IT clients based on short-term and long-term engagements required by the clients. The company provides various services like functional, performance, usability, compatibility, security, white box and user acceptance testing to the clients based on their requirements, he added.